Hey, have you heard what's new at Yanumi? We developed and produced a unique sustainable natural deodorant for you. Do you know its features?
Yanumi natural deodorants smell pleasant, are quickly absorbed and spread nicely. Due to their 24-hour operation, they protect you from unpleasant odors all day long, while at the same time they do not interfere with the body's natural detoxification function through sweating.
Excellent, carefully collected natural ingredients also nourish and restore the skin in the armpit area, which is often irritated and sensitive.
We love them because they are sustainable and healthy.
USING A QUALITY NATURAL DEODORANT BY YANUMI HAS MANY ADVANTAGES. WE COLLECTED JUST A FEW OF THESE FOR YOU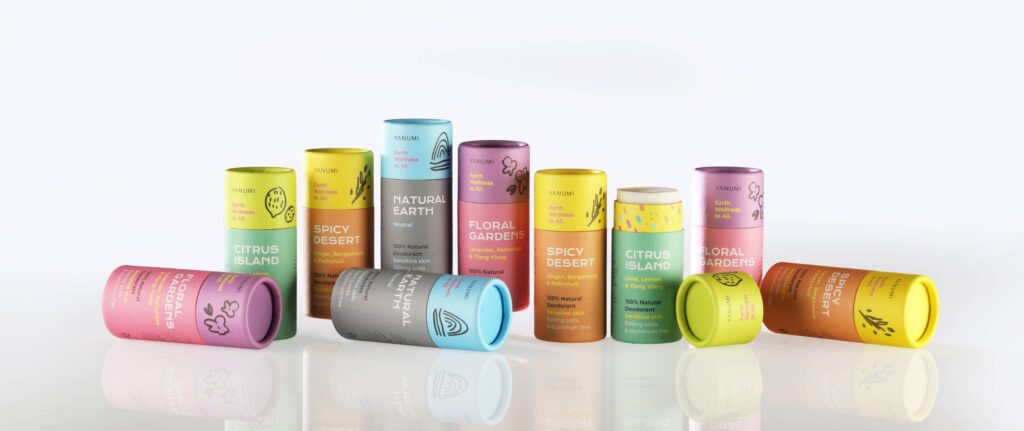 1. NATURAL INGREDIENTS LET YOUR SKIN BREATHE
You probably already know that deodorants usually contain ingredients that inhibit sweating by clogging pores and sweat glands. One such ingredient is aluminum, which has been linked to cancer. Natural deodorants do not contain chemicals that inhibit sweating by massaging the sweat glands. Yanumi deodorants contain only the best natural ingredients that protect your health and let your skin breathe.
2. THEY DO NOT CONTAIN HORMONAL DISRUPTOR
Along with aluminum, parabens are another ingredient found in antiperspirants and many other cosmetic products. They work in a similar way to estrogen, which disrupts the functioning of your hormones and causes an imbalance in the body. This alone can lead to breast cancer. Yanumi natural deodorants do not contain parabens, so we especially recommend them to you who have taken responsibility for your health into your own hands.
3. THEY SMELL PLEASANT AND ARE NICELY LUBRICATING
What's the first thing you do when you buy deodorant? Can you smell it? A great smelling deodorant is definitely something we all want. Yanumi deodorants are scented with natural, pure essential oils. In our new collection, super-lubricating natural deodorants with a pleasant scent of citrus, flowers and spices are waiting for you.
4. IT IS SUITABLE FOR YOUR SENSITIVE ARMPIT
Is your underarm skin irritated from washing, shaving and rubbing against the fabric many times? In addition, does the deodorant or the chemicals in it irritate you? Yanumi natural deodorants that contain coconut, shea or other butter and essential oils will soothe your skin.
5. THE SKIN IS SMOOTER AND EASIER TO SHAVE
Yanumi natural deodorant protects you from unpleasant odors with its formula and ingredients. But that's not all! At the same time, it also nourishes your skin. The skin under the armpit becomes softer and smoother with regular use of a natural deodorant. This way you will shave your skin more easily and it will also look more attractive.
6. DESTROY BACTERIA CAUSING UNPLEASANT ODORS - WITHOUT BAKING SODA
An expertly selected mixture of natural ingredients without baking soda has an antimicrobial effect and destroys bacteria that cause unpleasant odors. At the same time, as already mentioned, they do not clog the pores, which allows the release of toxins from the body and natural detoxification.
7. LOVE FOR SUSTAINABILITY
Not only our deodorants, but also other cosmetics are sustainable. All ingredients are organic, and the packaging is made from recycled materials or such that you can use it again. Our health and the health of our environment are important to us. The packaging of Yanumi deodorants is made of recycled cardboard.
ARE YOU FOR HEALTHY AND FRAGRANT ARMPIT?