You are what you are! Always better!
ZERO WASTE DEODORANTS 24-HOUR OPERATION
Baking soda and aluminium free.
DISCOVER THE POWER OF MUSHROOMS
Natural cosmetics and nutritional supplements for healthy skin and better well-being.
Products adored by our customers
Only you know what is best for you. Sometimes you still feel that it is right if someone else makes the choice for you. Check out what our customers like.
ALL
Normal
Oily
Dry
Sensitive
Problematic
Mature
ALL
Normal
Oily
Dry
Sensitive
Problematic
Mature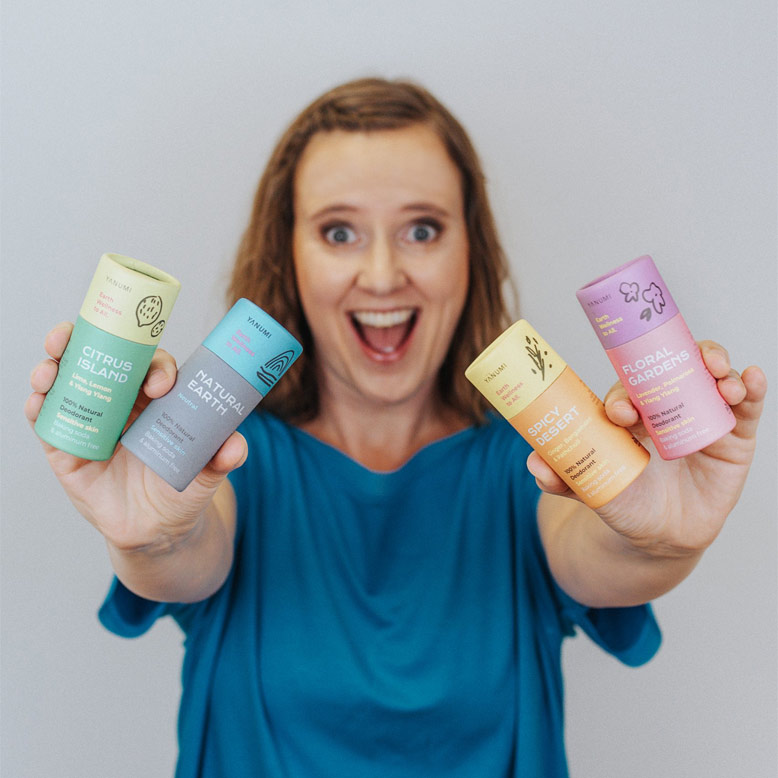 SMALL STEPS FOR BIG CHANGES
When passion for travel fuels a bussines idea, you know you found your calling. And using only natural and environmentally friendly materials, the calling reaches to sustainabity and preserving the world for future generations, my children.
Combinig powerful ingredients with the expertise of local experts was always my passion. Now this passion is cought in the little colorful and susainable products of YANUMI brand, the name that follows me arround from my first trip to Africa.
Where you meet your passion, there lays a piece of your heart. Join me on the quest of spreading my passion and make a small change the world.
WHAT OUR CUSTOMERS SAY ABOUT US!
I like it because nothing burns me, and I don't have a thousand rashes, it actually lasts all day and withstands sports and hard work, it smells nice, and spreads well and doesn't slow me down...and it still lasts me three months ! Well, the packaging is also PERFECT to me 🙂
I love it because it absorbs very well and doesn't leave stains. They last me a whole pack and they smell really nice.
I had crazy skin problems from baking soda, but I didn't want to have a deodorant that wasn't natural. Yanumi is great on my skin and lasts a long time.
I use a natural deodorant and I have to say I feel fresh during the whole day. Excellent!
Hi Martina! I have to let you know that my life has literally been turned upside down! I've been struggling all my life with how to get rid of spring fatigue, as well as fatigue in general, I've tried almost everything, but it helped for a short time, but then I started to feel sick again ;-/ And once I read an article somewhere about a mushroom Cordyceps, I said, I'm still trying that, and then I stick to Turkish coffee only... and it really worked! After just a few days of taking it, I felt like a new world had opened up to me! And I even survived without coffee. In short, I highly recommend this mushroom to everyone who drags through life as a fog, due to low blood pressure and fatigue. Thanks Martina for all the advice!
I started taking mushrooms when I heard about their effectiveness in allergies and they really helped me. I have the biggest problem with pollen, and during the worst flowering period I increase the dose to 18 capsules a day, without any side effects! This prevents my nose from getting completely blocked. They raise my resistance and the allergy manifests itself in a milder form, because otherwise the allergy manifests itself a lot, even if I lie at home for a day or so as if I were sick (cold, flu) with a completely blocked nose, which can last even several weeks. I am very satisfied with the mushrooms, because my allergy is no longer a major problem.
I had problems with flushing, those in menopause, and severe allergies, and I also got sick with every virus because I am a kindergarten teacher. At our local grocery store they gave me one other thing first and then those mushrooms and I ate 8 of them a day and it helped after a couple of days. I no longer have allergies in autumn, I have never been sick since then, and after a week there were no rashes. I recommend calf capsules woman 50+.
FIRST-HAND TIPS ON NATURAL CARE
Samo ti veš, kaj je zate najbolje. Včasih pa vseeno čutiš, da je prav, če kdo drug naredi izbiro zate. Preveri, kaj je našim kupcem všeč.
WE LOVE MAKING EMAIL FOR YOU!
Emails designed to inspire and support your growth, with a few exclusive offers and give-aways along the way.