With its unique ability to regenerate, moisturize and protect dry skin, certified natural YANUMI rosehip oil is a natural way to maintain healthy and radiant skin.
Due to the combination of powerful active ingredients, rosehip oil is a unique way of preventing skin aging, dehydration and uneven skin tone, and with its high vitamin C and A content, it is perfect for the care of sensitive and oily skin, acne and skin with large pores.
YANUMI rosehip oil is also great for skin regeneration, especially for problematic and damaged skin, burns, scars, calluses, prematurely aged, dry and cracked skin, and helps prevent the formation of stretch marks and wrinkles.
HOW DOES YANUMI ROSE BODY OIL HELP YOUR SKIN?
The combination of unique ingredients of YANUMI rosehip oil and 100% natural origin are the key to effectiveness in preventing skin aging, dehydration and uneven skin tone.
Omega 6 and Omega 3 essential fatty acids are unique ingredients that moisturize the skin and restore its softness and elasticity.
Beta-carotene is key to maintaining healthy skin, as it helps in cell renewal, especially in skin that has been damaged by the sun or stress.
YANUMI rosehip oil is quickly absorbed into the skin and is suitable for skin care on the face and body, it does not contain mineral oils, parabens or preservatives.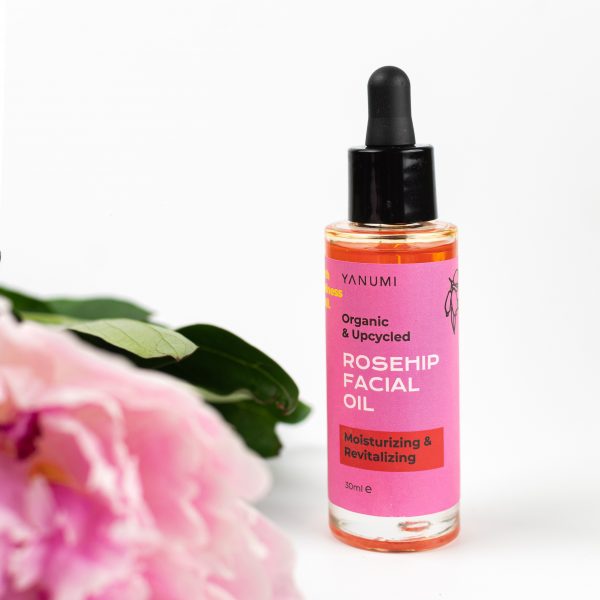 LEARN ABOUT ALL THE BENEFITS OF YANUMI ROSE BODY OIL
Rosehip oil was already known to the Incas, and due to its positive properties, it was also used with benefit. It is one of the most versatile natural oils, as it contains more than 500 ingredients, and it is increasingly gaining ground in the cosmetics industry, where it is becoming an important ingredient in all products that inhibit premature aging of the skin, as it visibly smoothes wrinkles on the face and those products used for care of damaged and problematic skin.
It helps to prevent and improves the appearance of the first wrinkles. Due to the content of a large amount of fatty acids and antioxidants, YANUMI rosehip oil works wonders on our skin, as it noticeably improves the appearance of the skin, especially in skin that has been exposed to excessive solar radiation.
It perfectly moisturizes dry skin. YANUMI rosehip oil helps dry skin and skin with eczema, dermatitis or psoriasis, as the oil penetrates deep into the skin and ensures that it is properly moisturized at all times.
It reduces or improves the appearance of scars. YANUMI rosehip oil is characterized by a very complex mixture of unique ingredients and thus affects the improvement of the appearance of scars.
It is also effective for burns. Research shows that rosehip oil greatly reduces redness, and its natural ingredients help the skin to regenerate faster.
It helps regenerate sun-damaged skin and reverse the effects of aging. Researchers conducted a study on women who had been exposed to the sun a lot and wanted to use it to prove the effectiveness of rosehip oil on premature signs of aging caused by solar radiation. The women used rosehip oil every day for three months and the first effects were visible after only three weeks. By the end of the study, most of the spots as a result of hyperpigmentation had disappeared, the appearance of wrinkles had significantly improved, and the skin had a natural glow.
Helps improve the appearance of stretch marks. YANUMI rosehip oil is completely safe for use during pregnancy and after birth. It strengthens the skin and helps it to become properly elastic again.
It is suitable for all members of the family, including babies and children. Rosehip oil is truly versatile, so the whole family can use it. It can be used to remove dark circles in babies, and it is also helpful for various skin rashes. It also works great for improving the appearance of chickenpox scars.
It gives the skin a natural glow. After using YANUMI rosehip oil, your skin tone becomes more even, fine lines are smoothed, and the appearance of scars is also improved.
Helps balance oily/combination skin conditions. YANUMI rosehip oil is absorbed quickly and evenly and can help with various irregularities that appear on the skin. This oil also narrows the pores and ensures that our skin tone is healthier and more even.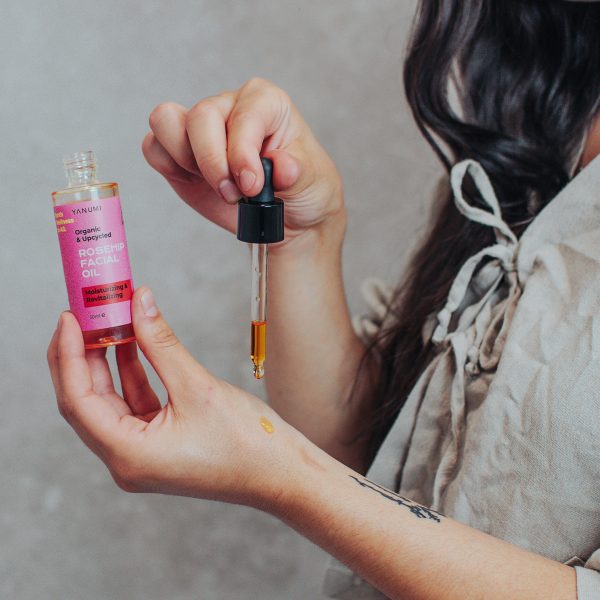 ORIGIN OF YANUMI ROSEHIP OIL
Rosehip (Rosa canina L.) thrives everywhere and in early summer adorns nature with its flowering and is one of the oldest ornamental plants. Rose oil was extracted from it already in ancient India and Egypt.
Rosehip fruits and seeds are used to obtain YANUMI certified natural cold-pressed oil. With cold pressing and a process where no solvents are used, we preserve the vital components of rosehip oil for its maximum effectiveness. The oil obtained in this way is rich in carotene and vitamin E and essential fatty acids.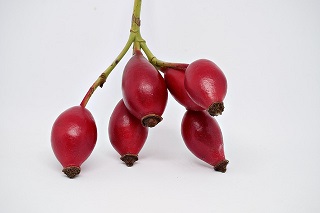 Active ingredients of YANUMI rosehip oil
OMEGA 6 AND OMEGA 3 ESSENTIAL FATTY ACIDS
TRANS – RETINOIC ACID (ACID FORM OF VIT. A)
Trans-retinoic acid is a biologically active form of vitamin A. Vitamin A helps in skin regeneration, prevents premature aging processes due to excessive exposure to solar radiation, eliminates scars, heals wounds, burns and eczema, and eliminates excessive pigmentation.
Vitamin A works by penetrating deep into the epidermis and converting into the active form of vitamin A, which naturally accelerates skin renewal.
LYCOPENE AND BETA-CAROTENE
Rosehip oil contains the extremely powerful antioxidants lycopene and beta carotene, which protect the skin from the negative effects of free radicals and help restore skin damaged by the sun and life stress.
LIPIDS
Lipids in rosehip oil are similar to those found in the skin, so rosehip oil is easily absorbed and does not leave a greasy feeling on the skin.
USES OF YANUMI ROSE POSE OIL
Apply YANUMI rosehip oil to the skin and rub it evenly into the skin using circular motions. Especially suitable for facial care. In combination with other oils (almond, macadamia), it is also suitable as a carrier oil in aromatherapy and massages.
INGREDIENTS INCI
Rosa canina fruit oil