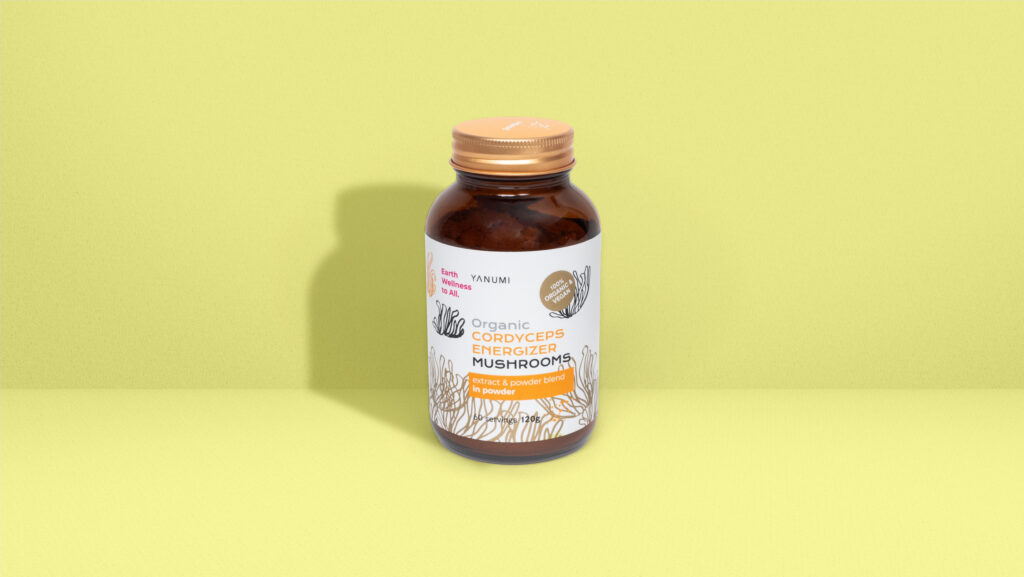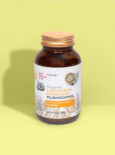 Cordyceps increases the oxygen transport to the cells (up to 30%), thus increasing physical and mental endurance,
slows down aging processes and cancels the effects of stress
for active people, for athletes or those who are chronically tired.
Cordyceps is a 100% Slovenian product.
100% SATISFACTION GUARANTEE: If you don't like OUR product, you can return it within 14 days of purchase and we will – no questions asked – refund your purchase.*
DESCRIPTION
Tips for use
Sustainable packaging
Ingredients
DESCRIPTION
Cordyceps is a fungus that grows naturally on extremely high mountains in Tibet. For thousands of years, Cordyceps has been used in traditional medicine in the Far East, where its remarkable potency has driven prices as high as €50,000 per kilogram!
Known for its ability to increase oxygen transport to cells by up to 30% and fight free radicals, infections and inflammation, theCordyceps mushroom has been used for thousands of years to relieve symptoms of respiratory ailments, colds, coughs, liver and other ailments! Cordyceps is a true superfood, as it successfully fights against ageing and the negative effects of stress, helps to keep the body healthy and boosts energy levels.
Effects of Cordyceps
Cordyceps contains a wide range of active substances, the most important of which are cordycepin, polysaccharides, glycoproteins and peptides, to which scientists attribute a broad spectrum of actions. The scientifically proven effects of Cordyceps include:
Acting against cancer, in particular by preventing DNA damage, inhibiting the growth of tumors and the formation of metastases, and by regulating the response of the immune system;
Antioxidant action, manifested by the ability to scavenge free radicals;
Protection of the liver by improving its function;
Anti-influenza virus activity, which is mainly due to polysaccharides;
Anti-inflammatory action;
Regulation of the immune system, by strengthening the immune response on the one hand and on the other hand by suppressing the immune response in the case of auto-immune diseases;
Treatment of lung diseases, by affecting more efficient use of oxygen;
Increasing mental and physical endurance, with a positive impact on energy processes in cells, which is especially useful for faster regeneration of sports-active people or chronically tired people.
Dietary supplements made from Cordyceps medicinal mushrooms, grown according to organic production guidelines, do not contain moulds, pesticides or heavy metals. The product is entirely produced in Slovenia, including the raw materials, packaging, and design. It proudly holds both vegan and eco certifications.
The use of Cordyceps medicinal mushroom is safe, but sensitive individuals may occasionally experience mild digestive problems or skin reactions, which usually disappear after a few days of consumption.
WHY CHOOSE
CORDYCEPS
YANUMI MUSHROOM?
because it is product of Slovenian scientists, grown in Slovenia, in a clean rural environment according to the guidelines of organic production,
contains 150% more of the active ingredient Cordycepin than other cultivated Cordyceps mushrooms, it is especially effective due to the high content of polysaccharides (as much as 10.9% – 109 mg/g),
it has an eco and vegan certificate and does not contain gluten.
Tips for use
Sustainable packaging
Ingredients