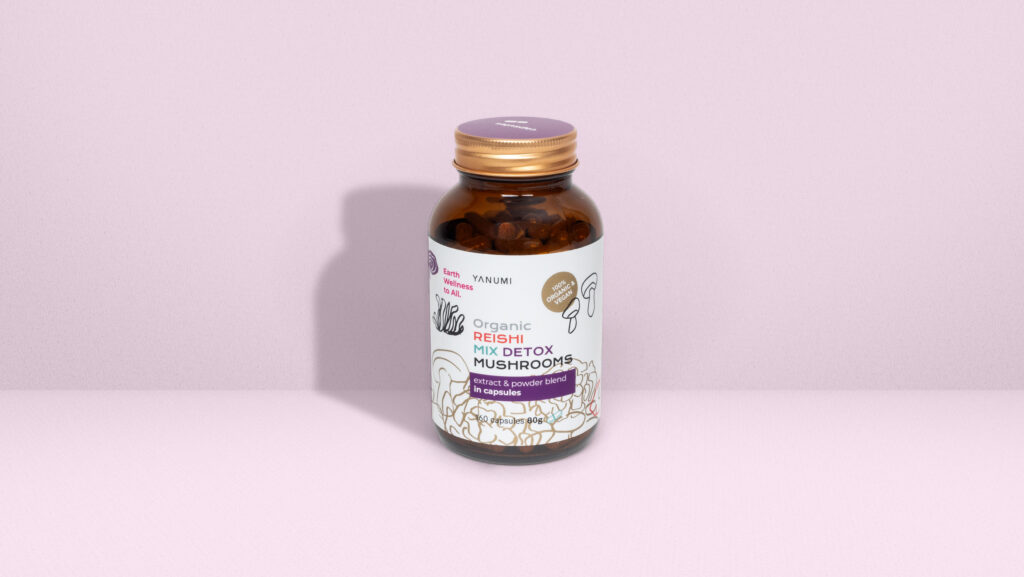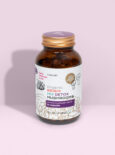 We recommend detoxifying your body and skin with Organic Reishi Mix Detox in spring and after serious illnesses. Mixture:
detoxifies the body and skin,
Liver Cleansing
Gastrointestinal Tract Cleansing
Poison Binding
Enhanced Liver and Kidney Function
100% SATISFACTION GUARANTEE: If you don't like OUR product, you can return it within 14 days of purchase and we will – no questions asked – refund your purchase.*
DESCRIPTION
Tips for use
Sustainable packaging
Ingredients
DESCRIPTION
The quality of the raw materials and their composition play an important role in the effect of medicinal mushrooms and in the choice of a dietary supplement containing them, which is why this was our main guiding principle during the creation of Reishi Mix Detox . The mushrooms in the Reishi Mix Detox are exclusively of Slovenian origin and the result of research by Slovenian scientists, and they also boast an organic certificate, which proves that all the raw materials are of 100% natural origin and do not contain any heavy metals, toxins or moulds. Reishi Mix Detox is also certified gluten-free and vegan certified, to prove that it is not tested on animals, because in addition to all of the above, our code of ethics is also extremely important to us.


MEDICINAL MUSHROOMS AND ANCIENT PEOPLES
Medicinal mushrooms were so well known among ancient peoples that they were often even attributed with miraculous properties. In areas of East Asia, they have been attributed medicinal properties for over 2000 years, and some have become more well-known than others. These medicinal effects have become so well-known worldwide that medicinal mushrooms have recently become increasingly common in European and American medicine cabinets, and the fact that Kuan Yin, the goddess of healing, is depicted in the form of the Reishi mushroom is a testament to how powerful they are in ancient Chinese medicine.
The medicinal mushrooms contained in the Reishi Mix Detox include Agaricus blazei (Murill), Hericium erinaceus (Lion's mane), Grifola frondosa (maitake) and Ganoderma Lucidum (Reishi mushroom), which have been shown in clinical studies to be effective in detoxifying the body, helping to cleanse the liver and strengthening kidney and liver function.


WHY CHOOSE YANUMI MEDICINAL MUSHROOMS?
Our YANUMI medicinal mushroom food supplements are 100% of Slovenian origin and the result of research by Slovenian scientists, and are certified organic and certified as not tested on animals and gluten-free.
Tips for use
Recommended daily dose
For health problems: 1-2 teaspoons a day.
Preventive use: 2-4 teaspoons a day, up to 3 months, then 1 month break.
Consume the powder with water, yogurt, smoothie or mild tea at least 20 minutes before or 30 minutes after a meal.
Food supplement. The use is not intended for children under 3 years of age, during pregnancy or breastfeeding. It does not contain ephedrine, caffeine, gluten, preservatives, dyes or sugar. Store at a temperature of up to 25°C. Recommended daily amounts or the dose should not be exceeded. A food supplement is not a substitute for a balanced and varied diet. Keep out of reach of children.
Sustainable packaging
Our values are sustainable and so is our packaging. Our products are packaged in reusable packaging that can be reused, recycled or composted. Don't be surprised if your order isn't packed in a nice new cardboard box. We recycle everything – so you could receive your favourite Yanumi sustainable cosmetics in a box that's been reused.
Let your imagination run wild and let us know how you reused a jar of shea butter. Share your picture on Instagram and tag us: #yanumi #yanumireuse
Ingredients
Agaricus blazei (Muril), Hericium erinaceus (Lion's Mane), Grifola frondosa (Maitake) and Ganoderma Lucidum (Reishi).
YANUMI PRODUCTS, THAT YOU'LL LIKE
100% SATISFACTION GUARANTEE